Chamberlain Garage Door Openers- Industry Leading Garage Doors
A Chamberlain garage door openers installed professionally guarantees garage security in all weather conditions. Supreme Garage Door experts install a Chamberlain garage door openers to match the look of your home. We ensure the Chamberlain garage door openers works best according to your regional weather..
Chamberlain Garage Door Openers Service Ensures Home Security
A Chamberlain door openers assures security in case you have the habit of driving off with your door open. Chamberlain door openers offer two solutions to the problem. First, they'll alert you if your Chamberlain door openers has been left open for more than 10 minutes.
The Chamberlain MyQ door opener is a Smart Garage Hub which can control the door with your home's Wi-Fi connection. Supreme Garage Door experts perform the programing Chamberlain remote to work using your home's Wi-Fi connection.
The response time for this type of device is much faster than its competitors and predecessors. Once you command the door to close there will be a beep and a 10-second wait for safety purposes. You can schedule the door to open and close at predefined times with the programing Chamberlain keypad.
Chamberlain Door Openers Work With Your Mobile Phone
Chamberlain garage door openers can be programmed to you show the status of your door from anywhere on your mobile device. You can also program the door openers to work for up to three different guests.
You can get a door openers with a battery backup if you experience constant power outages in your area due to the weather. With the battery backup installed you can open and close the door even when the power is out.
Programing Chamberlain Remote To Meet All Of Your Family's Needs
Programing Chamberlain remote is done by qualified garage door near me experts that take into consideration all your demands. The Chamberlain garage door openers will only function from the key fobs provided by our experts.
Programing chamberlain remote can be done to match your vehicle. Our garage door repair experts can program the key fobs when you are going on vacation. You can choose to program the remotes yourself. But a professional Chamberlain remote programing ensures that there are no security loopholes in the programing.
Chamberlain MyQ Garage Door Openers Is Affordable & Practical
A door openers, are one of the most powerful and durable door's on the market. But if there is any kind of faux pas in security even the most formidable door can become a security anomaly. The Chamberlain MyQ door openers ensures that never happens.
The Chamberlain MyQ garage door openers, is always connected to your home's Wi-Fi connection. This way it permanently ensures that the security is always the number one priority for your home and all of your family members.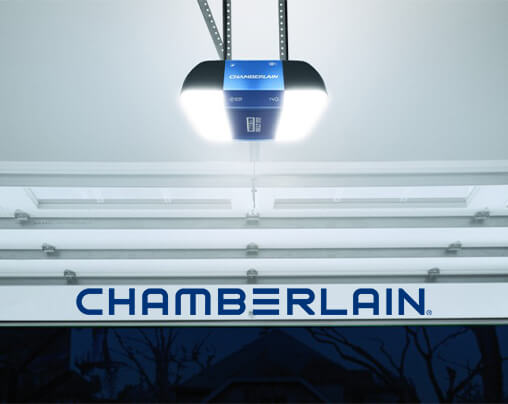 Programing Chamberlain Keypad For A Variety Of Different Functions
Our garages are certified experts who can perform the programing Chamberlain keypad according to your demands. The programing must be done so that you can receive real-time alerts. You can choose from a number of different keypads and get customized programing Chamberlain keypad.
This kind of door openers has the most diverse functionality with an extremely affordable price. The keypad can be used to perform several other functions other than controlling your garage door.
Chamberlain Garage Door Openers Features & Extras
A door openers can be connected with cameras to deliver an integrated experience. You can monitor the activity in your garage with the Chamberlain MyQ garage door openers. You can carry out all of these functions with an internet connection.